The number of Indian startups entering the unicorn club this year may well be just half of last year, going by trends so far.
While there were at least 45 unicorns in 2021 with a combined valuation of a little over $97 billion, there have been only 24 till end-October this year with a combined valuation of $50 billion, according to data from DealStreetAsia DATA VANTAGE.
"2022 will go down as annus horribilis for the global startup ecosystem, including India. Startups, which benefited immensely from the record liquidity during COVID-19, suffered from the liquidity clawback due to rising interest rates. Cost-cutting measures have punctuated the entire year as even listed companies are looking to scale back budgets due to uncertainty. Rising regulatory action, too, has dampened the outlook of these companies," said Siddarth Pai, Founding Partner, 3one4 Capital.
"Growth driven by unit economics and business fundamentals, as opposed to discounts or inorganic avenues, will become the norm going forward," Pai added.
While India saw the entry of 15 startups into the unicorn club by March, the pace slowed down from April, when it failed to produce even a single unicorn. Meanwhile, one unicorn was born in May followed by three in June and two in July. There was just one entry in August and two in September, while October drew a blank.
Macroeconomic headwinds, coupled with the ongoing funding winter, have had an adverse effect on startup valuations this year, and therefore the number of unicorns. At subdued valuations, garnering growth capital continues to be a challenge for bigger players as well. They are conserving cash by cutting costs and downsizing and waiting for the markets to get better before setting out to raise the next round.
The situation is expected to be grim at least for the next two quarters, say experts.
List of Unicorn Startups in India in 2022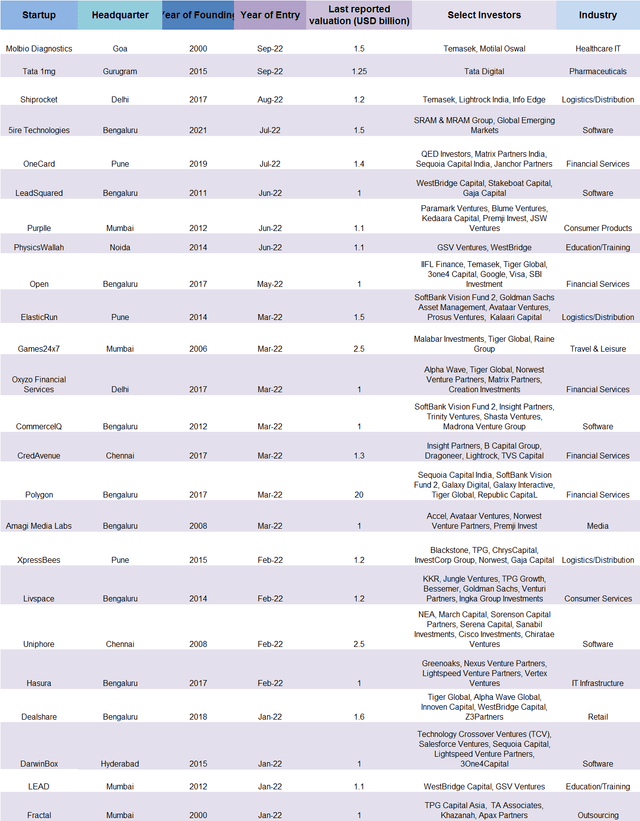 "While the unicorn club may stay subdued even in 2023, the startup ecosystem in India continues to grow from strength to strength on the back of solid entrepreneurs, availability of dry powder, etc. These are expected to create disruption in the market, and we may see some new sub-sectors seeing enhanced traction next year, such as SaaS, spacetech, regtech, consumer tech etc," said Raja Lahiri, Partner, Grant Thornton Bharat LLP.
"Valuation and unicorn status are not the sole indicator; there are many other indicators of growth, such as the quality of the product/service, profitability, consumer acceptance, quality of management team, good governance standards, and so on, to determine the quality of a company. These are expected to become more prominent in evaluating the strength of the startup ecosystem," he added.
As of October 31, 2022, India is home to 108 unicorns, which makes it the third-largest startup ecosystem globally after the US and China.
Highlights of 2022:
Financial services and software industry lead the pack with five unicorn startups each, followed by logistics/distribution with three.
Ethereum layer-two scaling platform Polygon's valuation peaked to $20 billion in the $450-million financing round that it raised in February this year, led by Sequoia Capital India and with investments from SoftBank's Vision Fund 2.
Bengaluru has the highest number of unicorns at nine followed by Chennai (2) and Delhi (2).
Founded in 2021, blockchain startup 5ire was the fastest to turn unicorn in 2022 after it raised $100 million in Series A funding from UK-based conglomerate SRAM & MRAM.
Edtech, which was the darling of investors in 2021, saw two startups make it to the unicorn club — PhysicsWallah and LEAD. PhysicsWallah turned unicorn after raising its maiden round in June.
"Venture inflation has cooled far quicker than traditional inflation, and investors will become more judicious of higher valuations in the near future. Value creation will move more closely with valuations, going forward. The number of unicorns may also shrink due to downrounds, distress M&As, and closures. But the outlook should improve from mid-2023 as these factors get priced in by investors and confidence comes back into the market," Pai said.
                    List of Unicorn Startups in India in 2021

Note: Tata Digital had acquired online healthtech platform 1mg in June last year, which has been included in 2022 unicorns list.